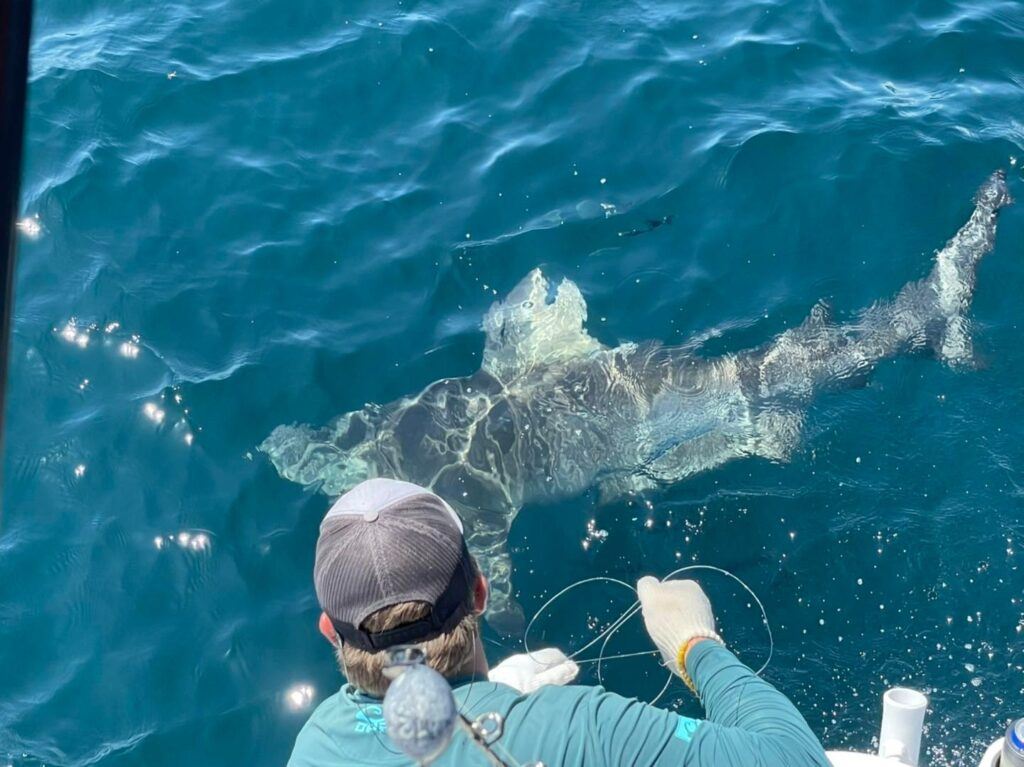 Learn all the deep-sea fishing basics:

Deep-sea fishing is conducted in waters at least 100 feet deep.
Charter boats are the best way to go deep-sea fishing.
You should bring food, anti-nausea medicine, and other materials.
---
Red snapper, tuna, marlin, sharks, and swordfish—catching these species is not for the faint of heart. If you've read Hemingway's "The Old Man and The Sea," you know deep-sea fishing is nothing short of an adventure of a lifetime. Nonetheless, if you're new to the sport, the big ocean waters may seem more intimidating than exciting. If that's the case, fear not—all our favorite beaches feature charter boats with seasoned captains who will gladly teach you the ropes. So if you're ready to venture into the deep, learn from the experts with this deep-sea fishing 101!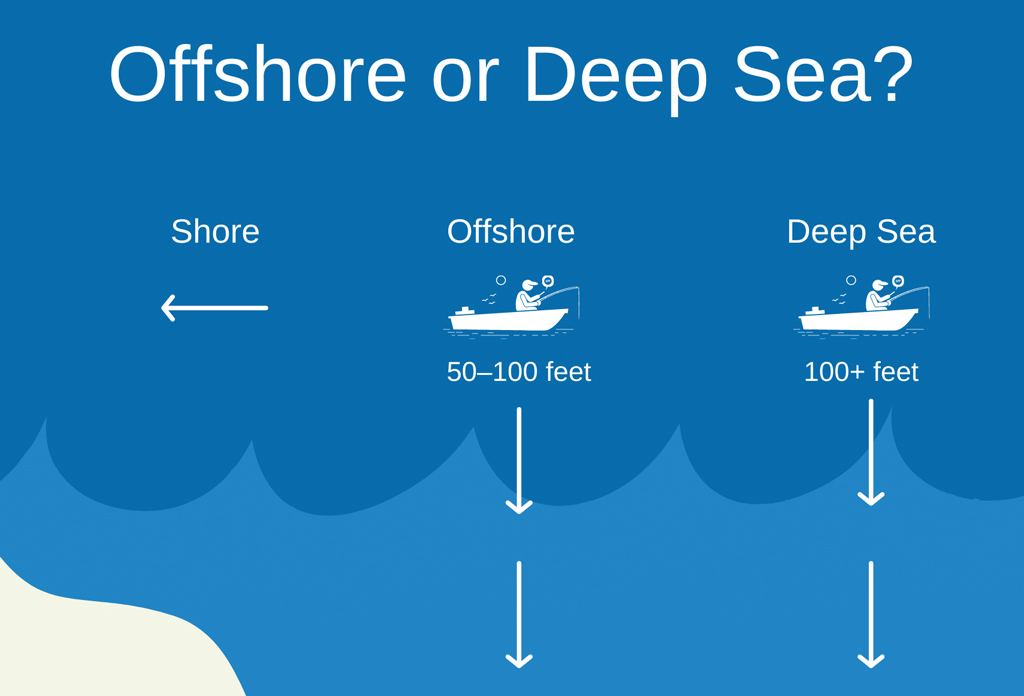 Most experts classify deep-sea fishing as recreational fishing conducted in ocean waters at least 100 feet deep. Although offshore fishing and deep-sea fishing are interchangeable, the classic deep-sea fishing experience begins at 100 feet deep. Most deep-sea ventures target large game fish, such as tuna, sharks, swordfish, and marlin, and these species only dwell in the depths. Captain Troy Frady—Owner and Operator of the Charter Boat Distraction in Orange Beach, Alabama—says that most of his deep-sea fishing trips are in waters 40–1,000 feet deep. However, during some journeys, depths can exceed 6,000 feet. He and his crew primarily fish over the top of manmade reefs, natural bottoms, rock formations, ledges, and old river beds.
Captain Frady adds that bottom fishing is another popular term for deep-sea fishing. He explains, "Bottom fishing is described as the boat holding up (hovering) over the reef or area and anchoring. Anglers hold a pole and drop their baited hook down to the depth where the fish are located." Some smaller species—such as porgy, vermilion snapper, and juvenile red snapper—live at the bottom of the ocean floor. However, the coveted larger fish—the mature red snapper, greater amberjack, and triggerfish—congregate in the higher water columns. So, how far anglers drop down their lines depends on the species they target.
Deep-Sea Fishing Charters
Deep-sea fishing is quite beginner-friendly—if you go with the experts. While deep-sea fishing alone for the first time is nearly impossible, going on a charter boat trip with an experienced captain guarantees an enjoyable experience. You don't have to bring fishing equipment on these charter boats—like rods, reels, and tackle—since they supply these tools for you. Plus, many provide catering, ice, fuel, and fish cleaning. This way, all you have to worry about is casting out your line and having a great time.
Deep-sea charters offer various trips to accommodate both beginners and seasoned fishermen. These fishing ventures can range from 6–8 hours to three days. Captain Chris Kirby—owner and operator of the Charter Boat Backlash in Destin, Florida—recommends that beginners and families with young children stick to the half-day trip, as the longer excursions are more suitable for mature fishermen. The length of the journey also dictates how far offshore you'll travel. According to Captain Johnny Greene—owner and operator of Intimidator Charters in Orange Beach, Alabama—half-day trips take place only 10–12 miles from the shore. However, two-day ventures occur 75–140 miles offshore, and three-day excursions can be up to 175 miles offshore.
How to Prepare for Your Deep-Sea Fishing Trip
Deep-sea fishing requires much more planning than inshore or bay fishing. Since you'll be out on the water for a minimum of 6–8 hours, you want to have everything you need to enjoy your trip. Although many charter boats provide food—even grilling steaks and burgers on longer trips—it's still a good idea to bring snacks and drinks. Captain Greene also recommends taking sunscreen, sunglasses, hats, cameras, rain jackets, and motion sickness medication.
If you are prone to motion sickness, you have several options depending on the intensity of your symptoms. According to Captain Kirby, most passengers have success with anti-nausea wristbands. You can purchase them online or at your local drugstore. However, Captain Kirby recommends a prescription anti-nausea pill for those who regularly experience motion sickness from car rides, rollercoasters, etc. He advises taking this pill the day before and during your fishing trip, as the drug isn't as effective once symptoms appear. By bringing these supplies, you can step into the charter boat worry-free and focus on reeling in trophy fish.
Now you've completed your course in deep-sea fishing 101. So find a great charter boat in your beach area, and get ready for an unforgettable experience!